Pastilla of Guinea fowl, ceps and Murol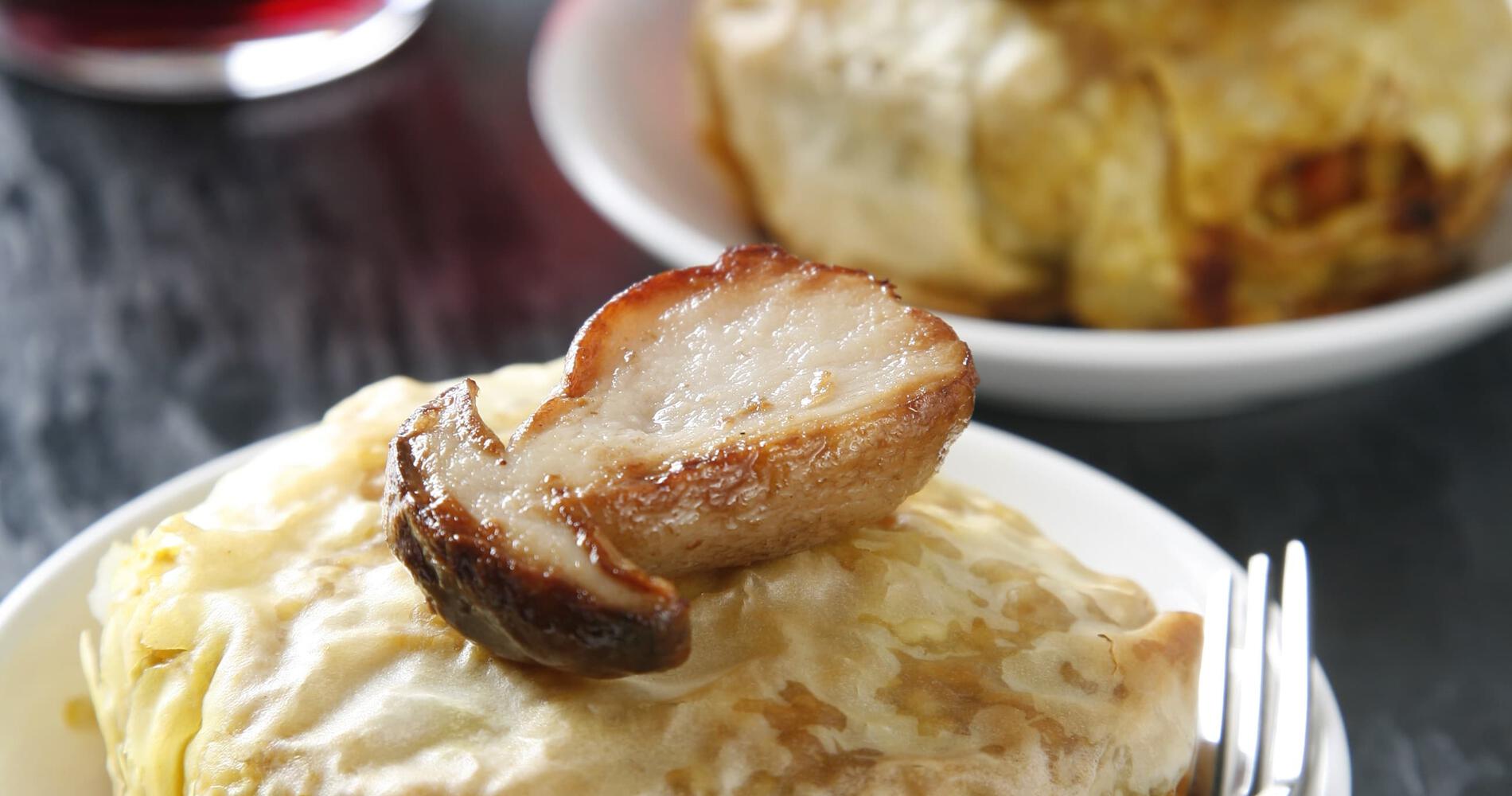 For 4 people
1 onion, finely cubed
2 carrots, finely cubed
30 g butter
3 Guinea fowl breasts, cubed
1 tsp powdered cumin
1 tsp ginger
1 tsp powdered coriander
1 tsp curcuma
150 g Murol
100 g ceps
1 chili pepper
8 sheets filo pastry
Salt
Pepper
Cook the onion and carrots in the melted butter.
Add the Guinea fowl, spices and one-half glass of water.
Cover and cook for 20 min. over low heat.
Sautee the ceps in a frying pan.
When the Guinea fowl has finished cooking, add the Murol, ceps and chili pepper.
Season to taste. Place 2 sheets of filo pastry one on top of the other, add 1/4 of the cooked stuffing and close.
Preheat the oven to 180 °C and bake for 10 min.
Serve hot.
Perfect wine pairing
More about this grape variety
Smoothness that is perfect with roasted poultry. Whether it is duck breast skewers or chicken or goose rillettes, Merlot's leathery touch goes wonderfully with the subtly wild notes of our favorite feathered friends. Its velvety tannins are a marvelous companion to the melt-in-your-mouth delight of goose rillettes or roasted chicken. Merlot's fresh, elegant, luscious charm. Beloved on every continent, Merlot – another French treasure – embodies charm. It has a luscious, fleshy feeling on the palate and lovely balance with velvety tannins. Warm notes that pair exquisitely with grilled veggies. Generous and flattering, Merlot is a warm grape variety that is perfect for Mediterranean dishes like ratatouille or grilled vegetables, like Zucchini and Eggplant on Fougasse. A delightful, bruschetta-style wonder that is taken to a higher level with Merlot's stewed-fruit aromas.
When the new wave of French Touch artists interpret VDF on social networks