Trio of Dips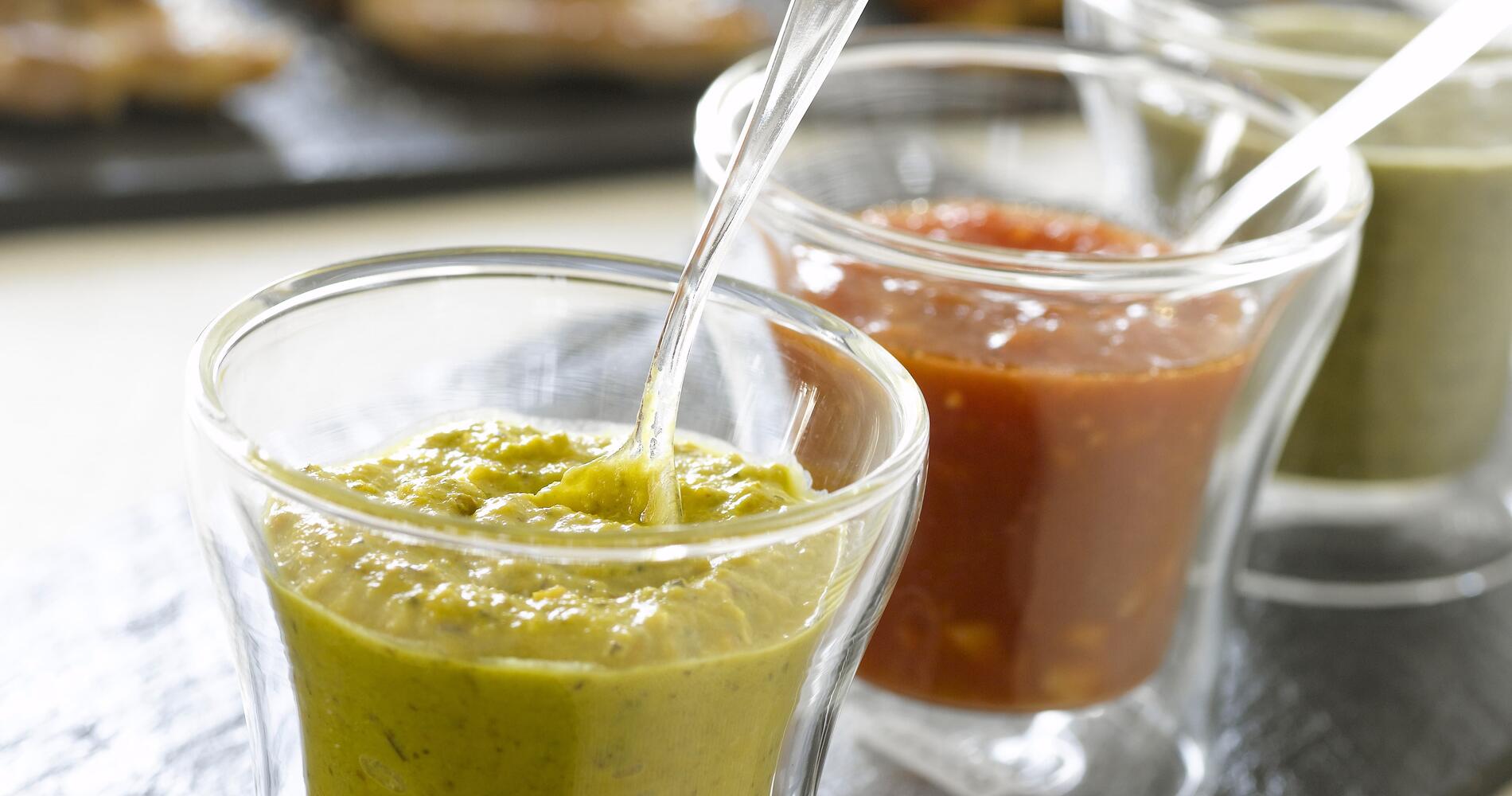 For 4 people
Red Sauce: 4 ripe tomatoes
2 cloves garlic
1 bunch basil
1 bird's eye chili (optional)
olive oil
Salt
Pepper
Saffron Sauce: 1 tbsp olive oil
1 onion, finely chopped
1 yellow pepper
1 eggplant
1 zucchin
50 g pistachios, coarsely crushed
50 g almonds, coarsely crushed
250 g Mascarpone cheese
Saffron (threads)
Salt
Pepper
Green Sauce: 30 cl mayonnaise or cottage cheese
1 bunch watercress (or sorrel or fine herbs)
The juice of 1 lemon
Tabasco
Salt
Pepper
To prepare the red sauce: remove the skin of the tomatoes (cooking them for one minute in boiling water) and remove the seeds.
Clean the garlic cloves and remove the sprout.
Put the tomatoes and garlic in an electric mixer, and mix in short pulses stirring in the olive oil.
Wash the basil and remove the leaves.
Put the crushed tomatoes in a bowl, finely chop the basil and mix.
Season to taste and store at room temperature.
To prepare the saffron sauce: blanch, wash and dice the pepper, eggplant and zucchini.
Brown the onions in olive oil in a frying pan over high heat.
Add the diced vegetables and a small glass of water, and cook over low heat for a few minutes until the water evaporates.
Next, add the pistachios, almonds, Mascarpone and saffron.
Mix well, season to taste, lower the heat and cook 15 minutes until the sauce is smooth.
To make the green sauce: boil the watercress (or other herbs), wipe dry and mix in a mixer until finely minced.
Mix the mayonnaise, herbs, lemon juice and Tabasco in a bowl, season and refrigerate.
Perfect wine pairing
More about this grape variety
Dense, colorful, sturdy wines. Cabernet-Sauvignon embodies the classic French spirit; it makes strong, hearty wines oozing with body. More tannic than other varieties, this masculine grape demands dishes with strong flavors and meaty textures. Lamb is its ideal partner. Thin lamb strips or duck breast – like any meat that must be chewed intently to experience its full flavor - go well with Cabernet-Sauvignon. Its structure and wild blackcurrant aroma echo the musky flavor of grilled meats. An adventure in taste: the sweet-savory delight of Prunes Wrapped in Bacon. Astonishingly, Cabernet-Sauvignon easily lends itself to this unexpected harmony. It is based on the smoky notes shared by the lard and the wine, and on the sweetness of the prunes, which plays off Cabernet-Sauvignon's tannins delightfully.
When the new wave of French Touch artists interpret VDF on social networks